Cuisine
Recipes from the Chef
Our galley chefs have been preparing the catch of the day for years.  In doing so, they have created some delicious recipes to prepare your prized catch.  Whether you enjoy baked fish, Asian inspired flavors or sushi, our chefs have you covered! Here are a few of our favorites:
Ahi Poke
1 pound diced tuna
1/4 cup teriyaki sauce
1/8 cup soy sauce
1 teaspoon Mongolian fire oil
1 tablespoon sesame oil
1 bunch green onion chopped
1/2 of a red onion diced
sesame seeds
Mix all together and garnish with sesame seeds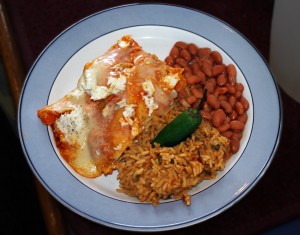 Albacore Enchiladas
1 lb. fresh albacore cut into 1″ steaks
24 corn tortillas
27 oz. can enchilada sauce
4 C Jack and Cheddar cheese mixed
Sear albacore 1 minute on each side-keep raw in the middle; heat tortillas in small amount of oil until they are hot. Spray a 9 x 13 pan with a non stick spray, ladle some of the sauce into the pan until the bottom is covered. Arrange 8 tortillas in the pan and cover with sauce. Arrange part of the albacore steaks in the pan and cover with part of the mixed cheese. Repeat the steps 2 more times, cover with foil and bake in 350 degree oven for 20 minutes. Serves 8
Coconut Macadamia Nut Crusted Wahoo
White flour with salt & pepper added
Butter milk
Macadamia nuts (ground fine)
Japanese bread crumbs (Panko)
shredded coconut
Cut wahoo into one inch steaks. Place wahoo into flour mixture then into buttermilk. Mix macadamia nuts, panko, & coconut together (equal parts of each). Place wahoo into coconut mixture (coating both sides). Place wahoo into heated pan w/ cooking oil, cook on medium heat for three minutes each side or until cooked through the middle.