3-6 Day Trips
SUGGESTED TACKLE
Leader Size / Spectra
Reels
Rods
# 25-30 Leader /# 50 Spectra
Andros 5IIa / 5NIIa
Cedros Star Drag 12CS
MK-8II / 8IISEa
Seeker - SS670 or Black Steel G670
Seeker - Hercules SHS70H
Seeker - Stealth STL7030
Cal Star - 700ML or 700M
#40 Leader / # 50-65
Penn 113HN Baja Special Spectra

#40 Surface Iron**

Andros 12IIa
Makaira 10II / 10IISEa

Cedros Star Drag 15S
Makaira 10II / 10IISEa

Seeker - SS6470 or G6470
Seeker - Hercules SHS70H
Cal Star - 700MH or 700H

Seeker - SS-Ulua 93H-10
Seeker - SS 6480H or G6480H

#50/60 Leader / # 65 Spectra
Makaira 15II / 15IISEa
Makaira 15II / 15IISEa
Seeker - SS6465XH or G6465XH
Seeker - Hercules SHS70XH or 60XH
Calstar - 765ML or 700XH
#80 Leader / # 100 Spectra *
(Trolling/Live Bait/Dropper Loop)
Makaira 20II / 20IISEa

STAND UP
Seeker - SS6465XXH or G6465XXH
Seeker - SS6463XXH or G6463XXH
Cal Star - 7455XXH

RAIL RODS
Seeker - SS1x3
Seeker - Rail Boss RR60
Calstar - 770XH
*Not Necessary on all trips
**Optional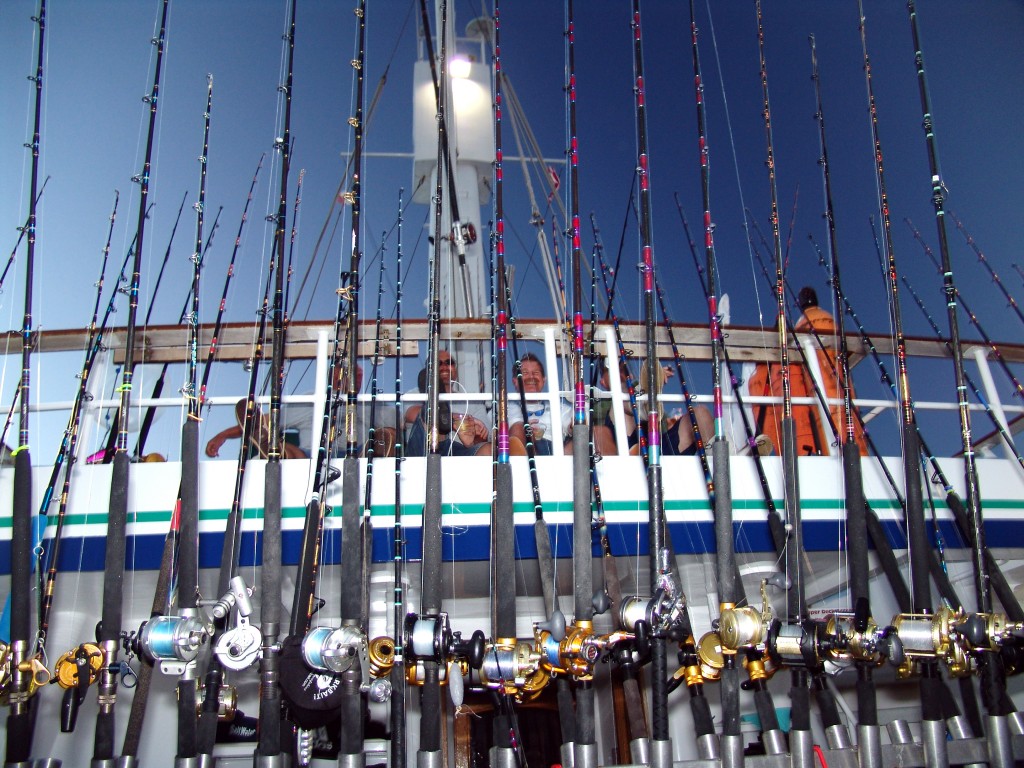 TERMINAL TACKLE SUGGESTIONS*
10 each: 5/0, 4/0, 3/0, 2/0, 1/0, 1   Mustad 3x Ringed Sea Demon circle hooks or Owner ringed Mutu
10 each 5/0, 4/0, 3/0, 2/0, 1/0, 1 Mustad 3x Ringed Sea Demon J-hook or Owner ringed Offshore
1/4 and 1/2-oz rubber core and/or egg sinkers
6 heavy yo-yo jigs SALAS 6X and/or 6X JR. Blue and White, Dorado, and Scrambled Egg are long time favorites.
1 Chrome and Blue yo-yo jig 
Trolling gear and Kite rods are supplied by the EXCEL on all trips.
*we sell all the terminal tackle listed above on the boat at internet prices!!!!
The suggestions above are general guidelines only.  There are additional manufacturer's models, plus a variety of other manufacturer's whose products are of excellent quality and may be readily substituted for those we outlined.  To best serve your needs, please contact our office or reputable saltwater/long-range tackle dealer for the most current recommendations for your particular trip.